Press release/ Results
September 2nd ATV & Motorcycle TT Long track.
This past Saturday night September 2nd the roar of atv and motorcycle engines could be heard from the Calvo Memorial Off-Road Park in the village of Yigo as once again dirt track racing under the bright lights took place. It was a fantastic night weather wise with clear skies and a nice cool breeze. The course was long, wide, and high speed and had been watered earlier in the evening in order to help keep the blinding dust to a minimum. The racing started at 7pm with the Open Atv class. The evening saw loads of racing and had been open to the public free to watch and enjoy.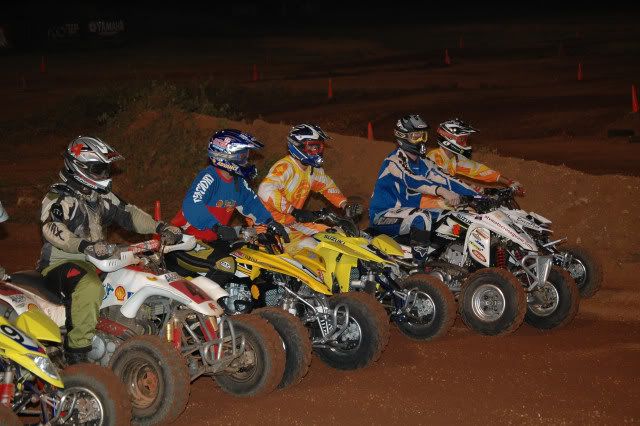 Open atv qualifiers line up for the start of their main event
Open Atv
As the full field of open atvs took to the track for their parade lap it became obvious to the crowd in attendance that the long course was going to produce a high speed elbow to elbow bar banging evening of racing. As the green flag dropped it was once again team Cycles Plus racer Rob Bucek taking the lead and leaving the rest of the field to battle for second. Bucek aboard the #2 machine a Suzuki Ltr 450 was only slightly challenged for the first half of the event by #99 Mark Schiavone who was also aboard a Suzuki Ltr 450 and for the second half of the event Bucek managed to pull clear from the rest of the field and take the checkers for first unchallenged adding to his win streak total which now stands at 7 in a row. Earlier challenger for the lead Mark Schiavone on the other hand had to deal with a determined and the hard charging RPM Yamaha team rider #1 Robert Santos aboard the Yamaha Yfz 450 who had clipped the rear wheel of another racer earlier and had taken a spill but quickly remounted and was now on a mission to make up ground and track positions. As Santos pulled up with Schiavone the two engaged in a fierce battle trading positions several times with Santos just managing to take the second place position from Schiavone at the finish. Mark Schiavone took third with #4 Donavan Pitter taking fourth and #55 Chris Huff taking fifth. First time Guam racer #8 Jason Wussom rode strong to finish sixth with #35 Kurt Einloth and #29 Bill Windham taking seventh and eigth positions respectively.
RESULTS
1st #2 Rob Bucek Cycles Plus Suzuki Ltr 450
2nd #1 Robert Santos RPM Yamaha Yfz 450
3rd #99 Mark Schiavone Suzuki Ltr 450
4th #4 Donavan Pitter Honda Trx 400
5th #55 Chris Huff Yamaha Raptor 700
6th #8 Jason Wussom Suzuki Ltr 450
7th #35 Kurt Einloth Kawasaki Kfx 400
8th #29 Bill Windham Suzuki Ltz 400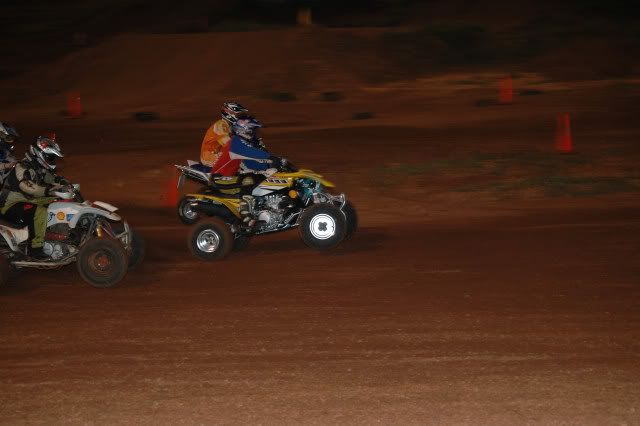 #1 Robert Santos aboard the RPM Yamaha Yfz 450 blasts off the start but an incedent with another competitor which caused him to flip ruined his chances of a win.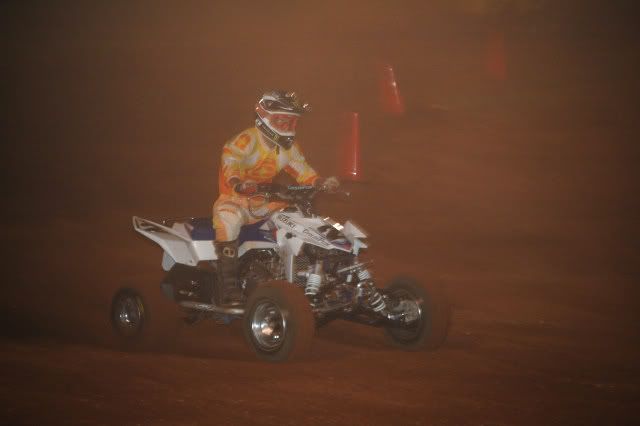 #2 Rob Bucek continued his win streak by taking his 7th win in a row on a stock Suzuki Ltr 450
Mini atv classes
In the 50cc atv class #4 Jose Simpson (Kawasaki) took the win over #29 AJ Windham. (Kawasaki). Following the 50cc atv class the Mini Mid atv class took to the long course with #1 Kelly Simpson (Kawasaki) managing to protect her early lead and take the win over #5 Blair Bates (Yamaha) and #8 Rochelle Westfall (Tano).
RESULTS
1st #4 Jose Simpson Kawasaki Kfx 50
2nd #29 AJ Windham Kawasaki Kfx 50
1st #1 Kelly Simpson Kawasaki Kfx 80
2nd #5 Blair Bates Yamaha 80
3rd #8 Rochelle Westfall Tano 100
#29 AJ Windham put presure on #4 Jose Simpson but was never able to make a pass stick.
The next scheduled atv and motorcycle event at the Calvo Memorial Off-Road Park will be held this up coming Sunday September 10th. And will be round 7 of the GMAC 2006 Guam Moto-X Championships with the racing action scheduled to kick off at 1pm. For more information visit the GMAC website at AtvMotocrossGuam.com or call 727-5381 or GMAC President Gene Morrison at 828-8311.